Eilander Balgexpres - Guided tour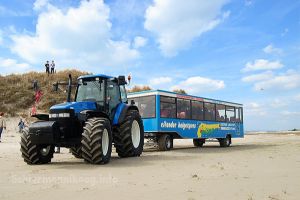 On a ride with the Eilander Balgexpres, you will brave the elements on the beach of Schiermonnikoog in a unique and adventurous way. This beach ride takes you and your party to the eastern tip of the island: De Eilander Balg, the place where wind and water rule and where we are guests between low and high tide. Once arrived, you will have plenty of time to wander around and enjoy the panoramic views. On The Balg, you can regularly see seals in their natural habitat, find unusual shells or go beachcombing.
Along the way, there is information in Dutch, German and English, your driver will answer all your further questions. The times when the balgexpress travels vary from day to day, as the time of low tide changes daily.
You can book the excursion online and at the desk at Information Centre the Beacon, among other places.
For information:
web.
Website