Cabinets of wonder Gribus - Museum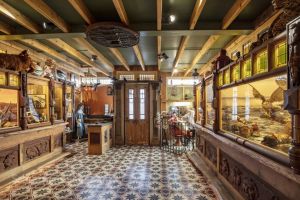 In It Aude Kolonyhus (The Old Colony House), you will find the Cabinets of wonder Gribus with items from all over the world. Various sights including: pale nose case, mermaid's foetus, mammoth's leg, one-day dragon and other seafaring, beachcomber and islander curiosities. You won't get bored! There is also an exhibition on Dutch whaling to the South Pole.
Furthermore Cabinets of wonder Gribus is near the following sights: Lighthouse Zuidertoren Schiermonnikoog (±550 m), Lighthouse Noordertoren Schiermonnikoog (±600 m), Swimming Pool de Dúnatter (±700 m), Speelbos Hazenweitje & Speelnatuur van Oerrr (±750 m) & Shell Museum Paal 14 (±850 m).
For information:
Badweg 67a, Schiermonnikoog
web.
Website