Information centre Het Baken - Museum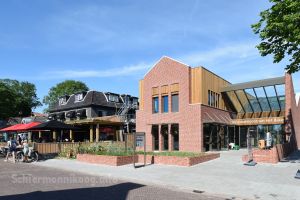 The starting point to get to know ">the island well. Be inspired by the unique nature of the National Park and experience the island feeling. The team of Natuurmonumenten and the local VVV Tourist Office are there for you with great expertise and pleasure!
Information centre Het Baken is the place to be for booking (nature) excursions, activities and accommodation. Of course, you can also go there for general information about [url=https://schiermonnikoog.info/en/schiermonnikoog.php]Schiermonnikoog, with its rich cultural history, authentic sights and beautiful flora and fauna of the National Park.
The exhibition provides interactive information about the National Park, the wealth of the Wadden Sea World Heritage Site and Schiermonnikoog's special place in it.
Stand eye to eye with the seal and the spoonbill, admire the starry sky above the island, study the unique flora and fauna and experience the seasons on Schiermonnikoog. Not to be missed are the large model of the island and the departure and arrival times of birds; after all, Schiermonnikoog is the hotspot for bird lovers.
The shop at Het Baken also sells Wadden and regional products, souvenirs, treasure hunts and the most beautiful walking and cycling routes on Schiermonnikoog.
Furthermore Information centre Het Baken is near the following sights: Whale Jaw (±125 m), Statue of the Monk (±125 m), Koningshuis (±200 m), Witte Winde (±350 m) & Lighthouse Zuidertoren Schiermonnikoog (±500 m).
For information:
Informatiecentrum het Baken
Reeweg 9, Schiermonnikoog
tel. +31 519 531 233