Witte Winde - Playground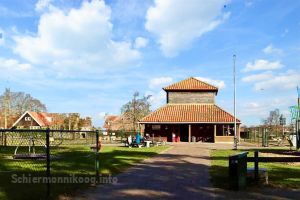 De Witte Winde is een kinderboerderij en speelweide. Vaste bewoners van de kinderboerderij zijn de ezels, de KuneKune varkens Rosie en Akka, een leuke variatie schapen, geiten en natuurlijk de 4 hertjes. Verder zijn er kippen, loopeenden en een volière waar verschillende vogels hun plekje hebben gevonden.
Bij de Witte Winde kun je ook lekker buitenspelen. Er is een grote variatie aan speeltoestellen. Verspreid over het terrein staan enkele picknicktafels vanaf waar je als begeleider een oogje in het zeil kunt houden.
Voor de sportliefhebbers staat de pannakooi garant voor een goed partijtje voetbal of basketbal.
Furthermore Witte Winde is near the following sights: Koningshuis (±300 m), Statue of the Monk (±300 m), Whale Jaw (±350 m), Information centre Het Baken (±350 m) & Swimming Pool de Dúnatter (±350 m).
For information:
Oosterreeweg 1, Schiermonnikoog
web.
Website