Whale Jaw - Sight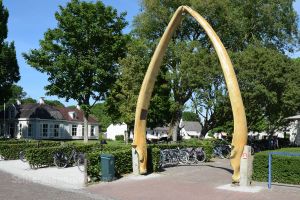 The Whale Jaws are worth a visit. They were brought by captain Klaas Visser (former commander of the schip Willem Barentz), and can be found in the park. In the centre of the village, the bottom jaw of a blue whale can be found. The blue whale was shot on the 6th of March 1950.
Whaling
The jaw is there as a reminder of the whaling industry, in which some islanders played a role, after the Second World War. Captain and expedition leader Klaas Visser, donated the jaw to the island.
Furthermore Whale Jaw is near the following sights: Statue of the Monk (±30 m), Koningshuis (±100 m), Information centre Het Baken (±125 m), Witte Winde (±350 m) & Lighthouse Zuidertoren Schiermonnikoog (±400 m).
For information:
Nieuwestreek, Schiermonnikoog