Koningshuis - Museum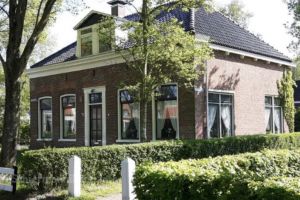 In the Koningshuis, a modest exhibition has been set up with elements from various aspects of Schiermonnikoog's island cultural history.
There is information about the beach piles, a display case with painted jugs, a small library with books about the island, bound village messengers, models of ambulance planes and helicopters, information about whaling, the nautical school, the Schiermonnikoog language and cemetery the Vredenhof. In a dark room, films from the islander past run.
Furthermore Koningshuis is near the following sights: Statue of the Monk (±80 m), Whale Jaw (±100 m), Information centre Het Baken (±200 m), Witte Winde (±300 m) & Lighthouse Zuidertoren Schiermonnikoog (±300 m).
For information:
Nieuwestreek 1, Schiermonnikoog
web.
Website