Shell Museum Paal 14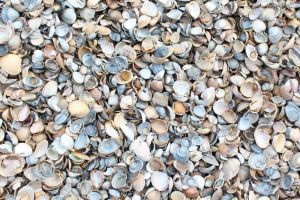 Weekdieren vormen na insekten de grootste diergroep ter wereld. Er zijn wel meer dan 100.000 soorten, die op allerlei verschillende plaatsen leven en oneindig variëren en vorm en kleur. In het museum zijn, naast een aantal algemene wetenswaardigheden over weekdieren, vooral veel prachtige schelpen te zien. Zo treft u er alle soorten die op Schiermonnikoog zijn te vinden, met daarnaast meer dan 1.500 soorten uit landen over de hele wereld.
Maar ook miljoenen jaren oud barnsteen, steenkool uit vergane stoomschepen, resten van oude houten scheepswrakken, zeesterren, rogge-eieren, krabben en andere strandvondsten van Schiermonnikoog zijn hier te bezichtigen. En uiteraard een map vol briefjes uit aangespoelde flessen. Alle schelpen en andere strandvondsten in het museum zijn eigenhandig door Thijs de Boer en zijn gezin verzameld.
Openingstijden:
Op de website en het bord bij het museum staan dagelijks de openingstijden aangegeven.
Furthermore Shell Museum Paal 14 is near the following sights: Lighthouse Zuidertoren Schiermonnikoog (±500 m), Whale Jaw (±600 m), Koningshuis (±600 m), Statue of the Monk (±600 m) & Information centre Het Baken (±650 m).
For information:
Schelpenmuseum
Martjeland 14, Schiermonnikoog
web.
Website