Cemetery Vredenhof - Sight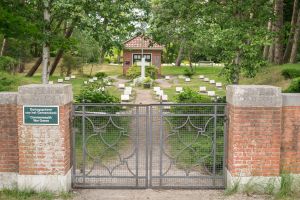 Hidden in the green of nature and surrounded by dunes along Reddingsweg, is a cemetery for soldiers and people who drowned at sea during the first and second world war. The cemetery was founded in 1920.
The cemetery has graves for soldiers from Canada, Australia, France, Germany, Great-Britain and Polen.
Furthermore Cemetery Vredenhof is near the following sights: Wasserman Bunker (±300 m), Bunkermuseum Schlei (±1,2 km), Duck decoy De Kooiplaats (±1,2 km), Speelbos Hazenweitje & Speelnatuur van Oerrr (±1,3 km) & Swimming Pool de Dúnatter (±1,4 km).
For information:
Reddingsweg, Schiermonnikoog