Duck decoy De Kooiplaats - Sight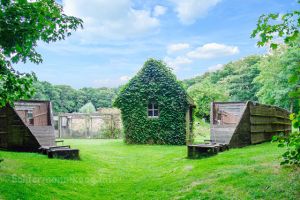 Near farm De Kooiplaats lies the Duck Decoy since 1861. It is one of the best-kept secrets of Schiermonnikoog National Park. In the fairy-tale-like cage forest, almost no humans enter, apart from the decoy-man.
A Duck Decoy consists of a freshwater pond surrounded by a cage forest. It used to be set up for catching ducks without using a gun. To then sell the captured ducks, teals and other birds to poulterers in Leeuwarden. Nowadays, the ducks are only ringed after being caught and then released.
Reinstated
Duck decoys are a typically Dutch phenomenon. They are known as far back as the 14th century, when duck was often on the menu. Most duck decoys are no longer in use today. In 1989 and 2016, Natuurmonumenten restored and refurbished the Duck Decoy on Schiermonnikoog.
Excursion
You can only visit the Duck Decoy through an excursion, as the Duck Decoy is in a protected nature reserve. You can book the excursion at the desk at Information Centre the Beacon, among other places.
Furthermore Duck decoy De Kooiplaats is near the following sights: Cemetery Vredenhof (±1,2 km), Wasserman Bunker (±1,5 km), Bunkermuseum Schlei (±2,0 km), Speelbos Hazenweitje & Speelnatuur van Oerrr (±2,4 km) & Witte Winde (±2,5 km).
For information:
Kooipad 1, Schiermonnikoog
tel. +31 519 531 372